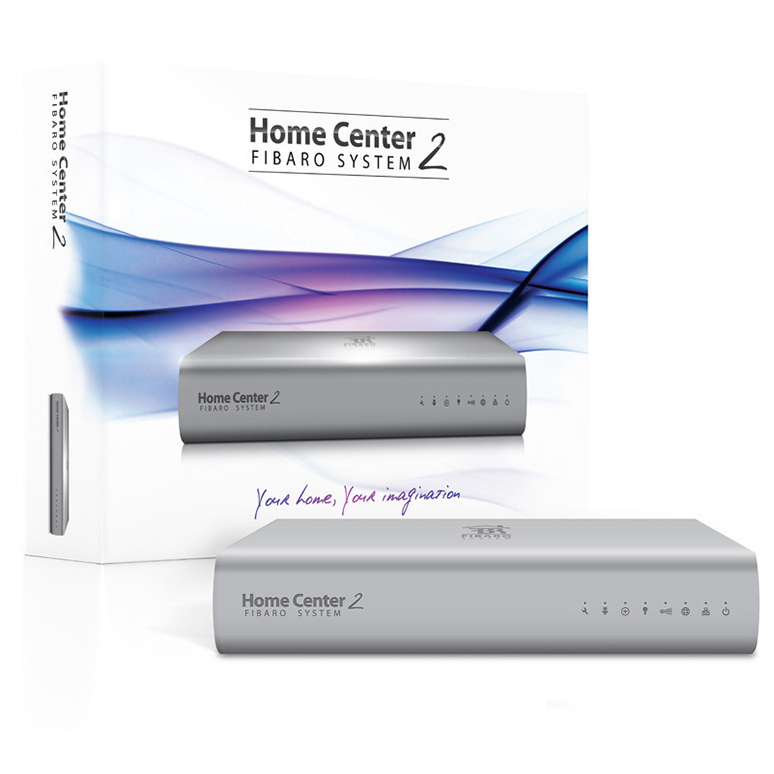 FIBARO - Home Center 2
Fibaro Home Center 2 is the easiest and most advanced home automation controller in the market, offering the newest, most innovative technology and functions that's never seen before in a smart home controller.
Brain of the Fibaro system, Home Center 2 also works smoothly with other Z-Wave home automation system with little power consumption.
Intel Atom 1.6Ghz Processor advances the speed of communication within the Z-Wave network, making Home Center 2 one of the fastest controllers in the market. Immediate response to commands, as a result, is the highlight feature.

4GB MLC Recovery Disc holds the gateway's unique system backups, preventing unauthorised access to the system, hence offering significantly improved security.

1GB RAM & 2GB SLC Hard Drive Large memory + fast processor = quick communication between the gateway and Z-Wave devices. A fast home is a smart home.
Features
Beautiful and user-friendly interface of the Fibaro app makes configuration as simple and easy as point and click. The Fibaro app gives total control over its layout and functionality, letting you create and modify tables, icons, names in such a way that you will always have those you find most important at your finger tip.

Control and monitor your home from anywhere in the world via web browser or mobile phone app - activating lights, appliances and heating, and getting alerts of break-in, fire, flood, or leaking gas through push notifications, emails or sms messages

Geo-localisation let your home know where you and your family members are and make decisions based on everyone's location. When you leave home, the system turns off unneeded devices, arms the alarm system and simulates your presence to discourage thieves from breaking in. While calculating your return route, the system will adjust temperature and run pre-programmed scenes.
Specs
Processor: Intel Atom 1.6Ghz

Recovery disc: 4GB MLC

Hard drive: 2GB SLC

Operating memory: 1GB RAM

USB: 4

Ethernet: 10/100/100

Dimensions: 225mm x 185mm x 44mm

Case: Cast Alloy